Snapshot Bulgaria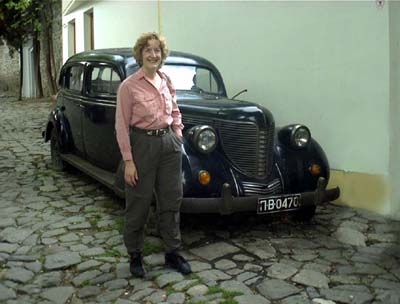 Bulgaria 2002: Old City of Plovdiv
Driving to Bulgaria
By Bruce Woolman
There are many ancient cities and places to see in Bulgaria, including of course the coast. But Sofia, the charming capital, has some unforgettable sights. It is well worth a visit. Moreover, it is a great staging area from which to see many of the other attractions the country has on offer. Food and accommodation are quite decent in Sofia. And there really are some splendid day trips to be made from the place. For example, Plovdiv, about two hours from town, is a spectacular old Roman city.  There you will find a virtually intact Roman amphitheater to be amazed by. And  Plovdiv's winding cobblestone streets and charming architecture make it the one not-to-be-missed safari from Sofia.
The character of the land makes a journey to Sofia a destination in itself. Much of Bulgaria is nicely contoured — even mountainous. The highest mountains in the Balkans are found there. Appalachian-like terrain is the rule — miles and miles of lush piedmont and smoky-blue rolling country line the highways.
Bulgaria has a very low population density. This simple fact, when combined with some very charming architectural traditions — like red tile roofs — conspires to create a romantic alpine landscape. Old-fashioned farms and villages, which appear to have been there forever, accent the lush countryside.  My wife and I agree that this is the prettiest drive we have ever taken in the region.
Sofia itself occupies the southern end of a wide valley and is ringed by lofty mountains. The city is watched over by Mount Vitosha, snowcapped much of the year. Upon approaching Sofia one can see Vitosha's peak rising impressively above the rolling hills. Once in Sofia itself the cloud-covered mass fairly dominates this green, tree-lined town. The big mountain is served by any number of roads. It hosts plenty of spots in which to eat drink and observe life below. (Read: Great day trip.)
Sofia is an ancient city with wonderful things to offer a visitor interested in the region's past. Although it has only been the capital of Bulgaria since 1879, its history dates back 7,000 years; it is one of the oldest cities in Europe. Called Triaditsa by the Greeks it went on to become an important commercial center during the fourth century, when it was under Roman rule. In more recent times Bulgaria was under the Ottoman Turks; that is, until the Russians helped drive them out late in the 19th century. That Bulgaria was a Turkish province for five centuries is everywhere evident — especially in the architecture and wonderful cuisine. But the Bulgarian way of life, language and customs, were carefully preserved in mountain monasteries until the national resurgence that followed Turkish expulsion.
Sofia takes its modern name from the Basilica St. Sofia, which still occupies a prominent place in the center of town. It is but one of the many ancient churches that can be discovered during walks in and around the center. The Rotunda of St George dates to the 4th century, and is the oldest public building in Sofia. Find it hidden away in a courtyard across from the newly renovated TSUM shopping center.
There are many good day trips out of Sofia. As mentioned earlier, Plovdiv is chief among them. For example, mountain walking is a real tradition in Bulgaria. Many of the higher mountains have rest stations that, in addition to serving hot tea,  still give out stamped postcards attesting to your accomplishment. The walk up Musallah Mountain, which is only about two hour's drive from Sofia, makes a terrific day trip. Musallah is the highest mountain in the Balkans, but, though strenuous, it is by no means a difficult climb.  First one rides the  funicular to the staging area, then one makes the summit, has a cup of herb tea at the meteorological station, and then one gets down before the funicular closes. Ask the U.S. Embassy Chisinau CLO to see the American Embassy visitor's guide to Sofia for some more day-trip ideas.
Lastly, have no fear about quality accommodation or good food. One can find both in Sofia.  No need to plan a long stay, either. We were easily able to scope out most of the sights in the city in three days, albeit superficially, including a memorable trip to Plovdiv.
Language
A surprising number of people speak English in the city of Sofia (especially the younger ones) but Russian is understood by the older generation. People often reply in Bulgarian, however — which, though a close cousin to Russian, is sometimes difficult to understand even for a good Russian speaker. When asked, people seem happy to switch to Russian without any apparent ill will; that is if they are able. Bulgarian uses the Cyrillic alphabet. All but the most major highway signs are written exclusively in this text.
Security
A final note on security. After two nights on the street our car lock was slightly damaged when a sneak thief attempted (unsuccessfully)  to break in.  In Sofia, we learned, it is important to use guarded parking. For up-to-date security and consular notes you might wish to check the http://www.state.gov website before going.
The Sea, The Sea
Although Sofia and environs are of great interest, Bulgaria's Black Sea coast is home to many good-quality resorts. Some of these places served the European community even in Soviet times. With this in mind we decide to leave Sofia a day early and scout out the beach. We are prompted by a spell of unseasonably fine weather in early May. It is an eight hour drive to the coast so we route our way home this way. (Read: NOT an day trip.)
With a little help from the United States Embassy, Sofia we score a reservation in the Laguna Beach Hotel at a well-known Black Sea resort called the Albena Complex. Our spotless, modern, 20 dollar a night sea-view room is a great value. (This is a springtime promotional bargain. Expect much higher prices in season.) The whole up-to-date complex, which consists of about 40 different hotels on an immense well-groomed compound, is north of Varna on the Black Sea.
We like it. The broad strand is deep with lovely pale sand. There are hundreds of umbrellas and chairs to rent and life guard stations stand sentry all along the beach. Albena, and sister resorts in the area, cater to vast numbers of Europeans on package tours. It is a generic beach destination: clean rooms, clean compound, clean beaches, clean air, clean ocean, lots of sunshine. 
The Black Sea on the Bulgarian coast really is very inviting, far nicer than the turgid waters to be found off the coast near here in Ukraine. We find that the Albena Complex is a professional, unpretentious, mass Euro tourism operation. We get a real kick from spending a night and a day soaking up the sun and splashing around in the waves. We have a swell old  time. Dinner costs as much as our accommodation: twenty bucks. The verdict: Not bad for a short getaway. But a luxury resort it is not. Intriguingly, there is a dive center in our hotel (The Laguna Beach), but it is closed when we go.
In summer, if you insist on Euro-standard seaside accommodation with sea view, you will pay for it; that is, if you can get it at all.  And be appraised that there is a broad spectrum of accommodation at Albena. Some of it is pretty basic. Hold out for the best you can get. The CLO has an Albena brochure and hotel guide. Check it out.
It should also be firmly noted that Albena Complex is only one among hundreds of choices. There are many different kinds of accommodation to be had in this tourist zone. Some perhaps have a bit more native charm, something that Albena lacked entirely. Work the web or a travel agent for other ideas.
Note that the good hotels in these resorts in Bulgaria must be reserved well in advance. They fill up. So contact a travel agent or Albena directly if you want to go.
Albena 9620, Bulgaria
Tel: (+359 579) 62090; Fax: (+359 579) 62575
Email: office@albena.bg
Web: http://www.albena.bg (On-line reservations available, but phone or fax might be more reliable. Reserve on line then confirm by phone.)
After a night at Albena we are able to drive back to Chisinau in about eleven hours. We make a pleasant border crossing on the E-87 coast road at Vama Veche. This time frame includes the brief stopover we make in Constanta to take pictures of that fair old city.
Getting There
It is just possible to reach Sofia in one long day of driving. Head south through Romania towards Bucharest on the E-85. Be sure to skirt Bucharest on the ring road. To get onto the ring road bear off to the right at a sign pointing towards Giurgiu, the border point, just before you reach the big Metro on the outskirts of Bucharest.  Keep a sharp eye out because the sign that marks the pokey exit ramp is fairly small. At the intersection where the ramp road meets the ring road you will make a left towards Giurgiu. Once on the ring, which when you are on it is not a particularly well defined thoroughfare, carefully follow the signs to Giurgiu. Finally, when you are actually in Giurgiu you come to a T intersection that has a big police presence — despite appearances this is not the border. Make a left at the T and after about a kilometer (or so) bear off to the right towards the frontier. This whole final stretch is rather poorly marked.
((((AN IMPORTANT NOTE FOR U.S. DIPLOMATS))))
DIPLOMATIC U.S. PASSPORTS REQUIRE A BULGARIAN VISA
Be sure to take your TOURIST PASSPORT
or get an appropriate visa in your diplomatic passport
*************************************************
Once in Bulgaria there are two roads to get to Sofia. You may choose to go by way of Pleven on the E-83 or by way of  Velika Tournova (E-85 to E-772). The choice point takes place just after the small town of Baila. The routes are of about equal length and converge again close to Sophia.. Both run through the lovely Bulgarian countryside, but the Velika Tournova route is slightly prettier. Then there is Velika Tournova itself, which is one of the country's many ancient capitals. It is more than worth it to take the little bit of extra time to go ahead and go into the old city to take in the fortress. And, if you are willing to break the drive into two legs — not a bad idea really — then this wonderful mountain-ringed old burg is a good place to plan a stopover.
The journey, including a brief stop in Velika Tournova, is 14 hours door to door. At the proper season the entire trip can be made in daylight by departing early.
Snapshots of our journey to Bulgaria (and elsewhere)  can be seen on my web site.
http://www.bdwoolman.net
Bon voyage…